Netflix
is a television and movie streaming service based in the USA.
The service is subscription based with millions of subscribers worldwide. Content is ad free and enables the user to skip the title sequence for shows. With a seamless transition into the next episode, Netflix is perfect for binge-watching your favorite Netflix Original shows!
Featuring a huge selection of thousands of hours worth of shows and movies, many are top and award winning originals such as The Witcher and Stranger Things, which have become top internet talking points.
Netflix provides new ways to wow audiences throughout the year!
Elite now streaming!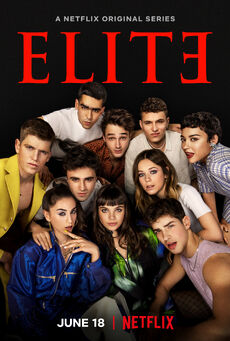 Netflix original hit series, Elite, is now available for streaming on Netflix!
Elite is a Spanish teen drama series created by Darío Madrona and Carlos Montero for Netflix. The fourth season premiered on Netflix on June 18, 2021.
A new school year at Las Encinas, as well as a new director: one of the most powerful businessmen in Europe, ready to bring the Las Encinas institution, which, according to him, has been running amok in the past few years, back on track. He brings his three children with him: three teenagers too used to always get their own way, and to have what they want when they want, no matter who falls, and who will jeopardize the union and strong friendship of the students who have stayed at the school.
If you want more information about this series (including its characters, episode guide, plots, and more), make sure to visit the Elite Wiki (note: spoilers ahead!).
Do you like this series? Vote in our poll! →
Discord Server
Whether it could be used for discussing Netflix movies and series, the development of the wiki, or just chatting in an off-topic manner and for fun, all of this is available in our official Discord server!
Get Invite
Netflix Wiki
We're a wiki by fans, for fans who love Netflix Originals! Whether you like watching an episode a day, watching a series in one sitting or a bit of both, we need you! Wanna help us on this journey? Sign up for a free account and start editing today!
New & Upcoming Originals
July 28
Bartkowiak

– Polish crime film about a disgraced MMA fighter takes over their family nightclub.

The Snitch Cartel: Origins

– Colombian crime movie based on a book and follows two brothers who are vying to become the rulers of the Colombian drug trade.

Tattoo Redo

– Reality series following people who very much regret their tattoos.
July 29
Resort to Love

– Romantic comedy that's being produced by Alicia Keys and starts Christina Milian, Sinqua Walls and Jay Pharoah.

Transformers: War for Cybertron Trilogy: Kingdom

– Polygon Pictures final entry in the Transformers War for Cybertron trilogy on Netflix.
July 30
Centaurworld – Kids series set in a vibrant world where a warhorse lives out his second life.

Myth & Mogul: John DeLorean

– Unclear what this project is – TBA.
The Last Mercenary – French action-comedy starring Jean-Claude Van Damme.
August 3
Pray Away

– Documentary produced by Ryan Murphy.

Shiny_Flakes: The Teenage Drug Lord

– Documentary on the true story that inspired Netflix's How To Sell Drugs Online (Fast).

Top Secrets UFO Projects: Declassified

– Conspiracy docuseries looking into the existence of UFOs.
August 4
Cocaine Cowboys: The Kings of Miami

– Billy Corben revisits the top of South Florida traffickers in this new docuseries.

Cooking with Paris

– Paris Hilton and friends unite in the kitchen.
August 6
Hit & Run – New action thriller series from the creators of Fauda.

Navarasa

– Tamil anthology series.
August 9
Shaman King

– Anime series based on the manga.
August 10
Phil Wang: Philly Philly Wang Wang

– Stand-up special.
August 11
Bake Squad

– Competition food series hosted by expert bakers.

Misha and the Wolves

– Documentary on a woman's Holocaust memoir which revealed she escaped and lived among wolves.
The Kissing Booth 3 – The final entry in the teen rom-com series that was filmed in secret and stars Joey King, Jacob Elordi and Joel Courtney.
August 12
AlRawabi School for Girls

– Arabic drama series from Jordan about bullied outcasts getting their own back.

Lokillo: Nothing's The Same

– Stand-up special with Colombian comedian Lokillo Florez.

Monster Hunter: Legends of the Guild

– Fantasy anime based on the Capcom video game.
August 13
Beckett – John David Washington headlines this movie follows an American tourist finding himself knee-deep in a conspiracy while in Greece.

Brand New Cherry Flavor

– Horror series starring Rosa Salazar about an aspiring film director in 1990 Los Angeles.

Gone for Good

– French thriller series based on a Harlan Coben novel.

The Kingdom

– Spanish drama about a religious leader running for president with an investigation ongoing into the death of his running mate.
August 17
Toot-Toot Cory Carson

– Animated kids series.

UNTOLD: Deal with the Devil

– Sports documentary on boxer Christy Martin.
August 18
Black Island

– German thriller about a peaceful island that's got plenty of secrets hidden away.

Memories of a Murderer: The Nilsen Tapes

– Crime documentary.

Out Of My League / Sul più bello

– Rom-com from Italy about a woman looking for love who happens to have a rare genetic disorder.

The Defeated / Shadowplay

– Multi-lingual series set shortly after the Second World War in a ravaged Berlin.

The Secret Diary of an Exchange Student

– Portuguese romantic comedy.
August 20
Comedy Premium League

– Stand-up and sketch comedy with 16 comedians from India.

Everything Will Be Fine

– Mexican drama about a separated couple living together for the sake of their children.
Sweet Girl – Jason Momoa led action thriller directed by Brian Andrew Mendoza. Will see a husband vowing to bring justice to the people that murdered his wife.

The Chair

– Dramedy series starring Jay Duplass and Sandra Oh. Comes from Game of Thrones creators David Benioff and D.B. Weiss.
The Loud House Movie – Nickelodeon produced animated movie based on The Loud House series which sees the family go on vacation to Scotland.
August 23
The Witcher: Nightmare of the Wolf

– Anime feature film from Studio Mir based on Netflix's The Witcher franchise.
August 24
Oggy Oggy

– Kids cartoon series.
August 25
Bob Ross: Happy Accidents, Betrayal & Greed – Documentary on the late and the great, Bob Ross.

Clickbait

– Thriller anthology mini-series starring Adrian Grenier, Zoe Kazan and Betty Gabriel.

John of God: The Crimes of a Spiritual Healer

– Brazillian crime documentary about the medium Joao Teixeira de Faria.

Motel Makeover

– Reality series which does exactly what it says on the tin!

Post Mortem: No One Dies in Skarnes

– Norwegian supernatural drama.

Really Love

– A painter is trying to break into the world of competitive art world set in a gentrifying Washington DC.
The Water Man – David Oyelowo directs this family adventure about a boy setting out on a quest to save his ill mother.
August 26
EDENS ZERO

– Shounen anime based on the manga series.
August 27
He's All That – A modern gender-swapped reboot of the rom-com.
I Heart Arlo – Animated series based on the movie that released earlier this year.

Titletown High

– Competition reality series set in a Georgia town.
August 28
Hometown Cha-Cha-Cha

– K-drama series.
August 31
UNTOLD: Crime & Penalties

– Sports documentary on the hockey team known as the bad boys of Hockey.