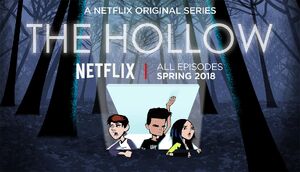 The Hollow is a Canadian Netflix original series created by Vito Viscomi, Josh Vepham, Kathy A. Rocchio, and Greg Sullivan. It first aired on June 8, 2018. A second season was announced in January 2019 and is expected to air in 2020.
The story follows the adventures of Adam (voiced by Adrian Petriw, Ken in Barbie: A Fairy Secret), Mira (voiced by Ashleigh Ball, Applejack and Rainbow Dash in My Little Pony: Friendship is Magic), and Kai (voiced by Connor Parnall, Shu Kurenai in Beyblade Burst), three teenagers who wake up in a mysterious and perilous world with no memories. They solve puzzles and escape enemies as they attempt to return to a home they don't remember.
Characters
Edit
Adam: Adam is the unofficial leader of his team. He has super strength and is a very good fighter. He is a 16-year-old Latino boy. He wears a dark shirt with the The Hollow logo in white on the front, greenish cargo pants, dark sneakers, and tall black hair. Adam is a level-headed person and is always looking out for the well-being of his friends, but he sometimes cracks under pressure.
Kai: Kai is a teenager around the same age as Adam. He has red-brown hair and pale white skin. He wears a white shirt with blue sleeves, blue denim jeans, and brown boots. Kai has a silly demeanor and is easily manipulated. Kai is the last of the main three characters to discover his superpowers. He has the power to control fire and is very good at fixing things. Although he makes many mistakes while in The Hollow, he shows determination and a willingness to do whatever it takes to help his friends.
Mira: Mira is an Asian-American girl around the same age as her teammates. She has long black hair with a middle part and light blue highlights. She wears a teal and green sweatshirt with three-quarter sleeves, a white shirt underneath, black leggings with pink stars on the side, and pink sneakers. Mira is smart and resourceful, and she never loses sight of her team's goal. She can talk to and understand animals, breathe underwater, and is unusually skilled at swimming.
The show's fanbase is small but growing. It has produced some fan theories, the most popular of which is that Adam is part of the LGBTQ+ community.
The series has a total of 47 fics on AO3, some including up to 13 chapters. The longest has a word count of 42,764 words and 172 kudos.
External Links
Edit